The thermal baths of Cerreta: pure natural well-being
REDISCOVER IMMERSED IN THE WATER
THE HEAT OF LIFE
We are immersed in a large park, surrounded by greenery, among woods of ancient chestnut trees and majestic oaks. At Cerreta, each element suggests synergistic and pure contact with Nature.
Our bathing tubs and pools, inspired by the Etruscan and Roman architecture of the ancient baths, are fed by a precious naturally hot water, which flows from an underground basin at a constant temperature of 51° C.
Thanks to the particular concentration of sulphates, calcium, minerals and trace elements, our thermal water has therapeutic effects on the respiratory system, the skin and the musculoskeletal system.
A source of precious well-being, a gift from Nature.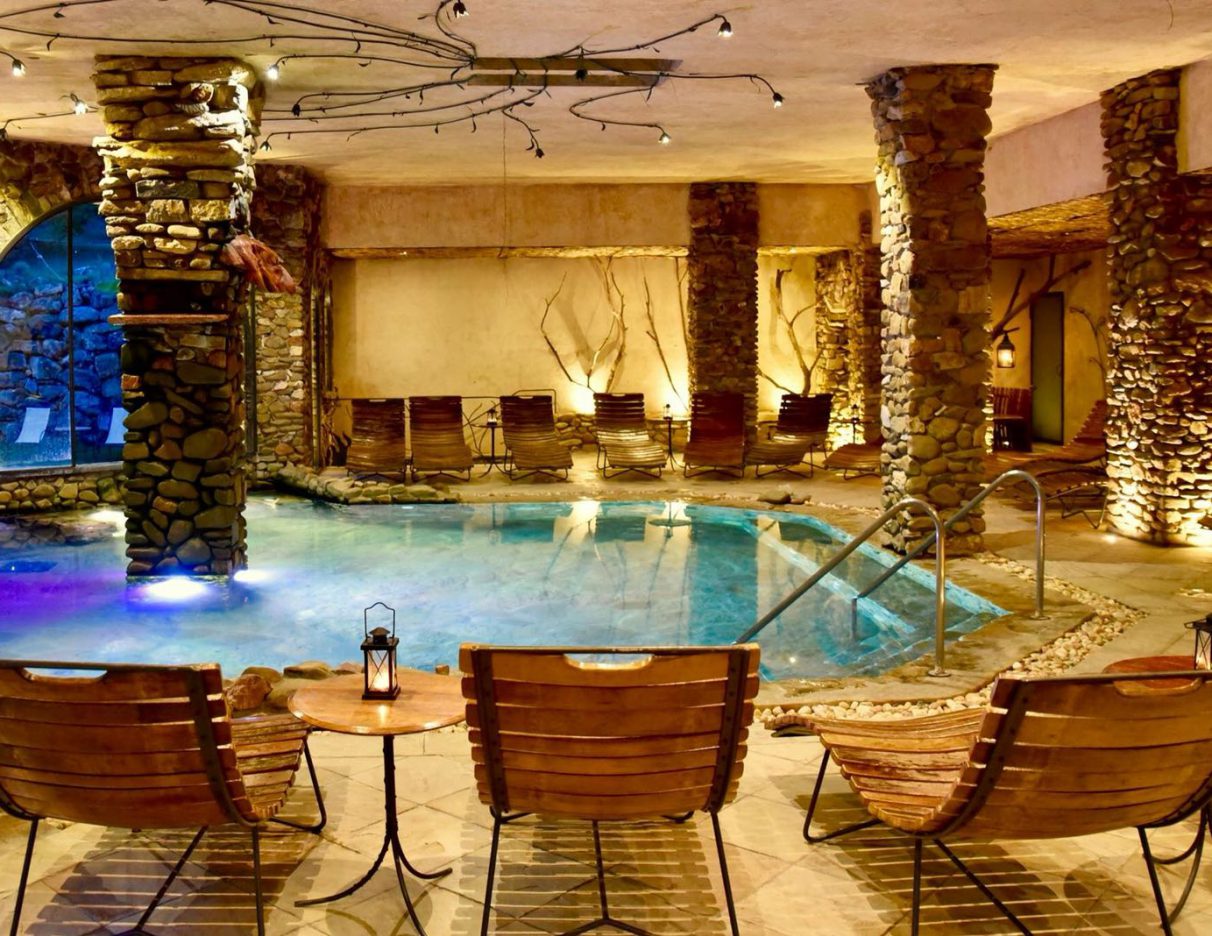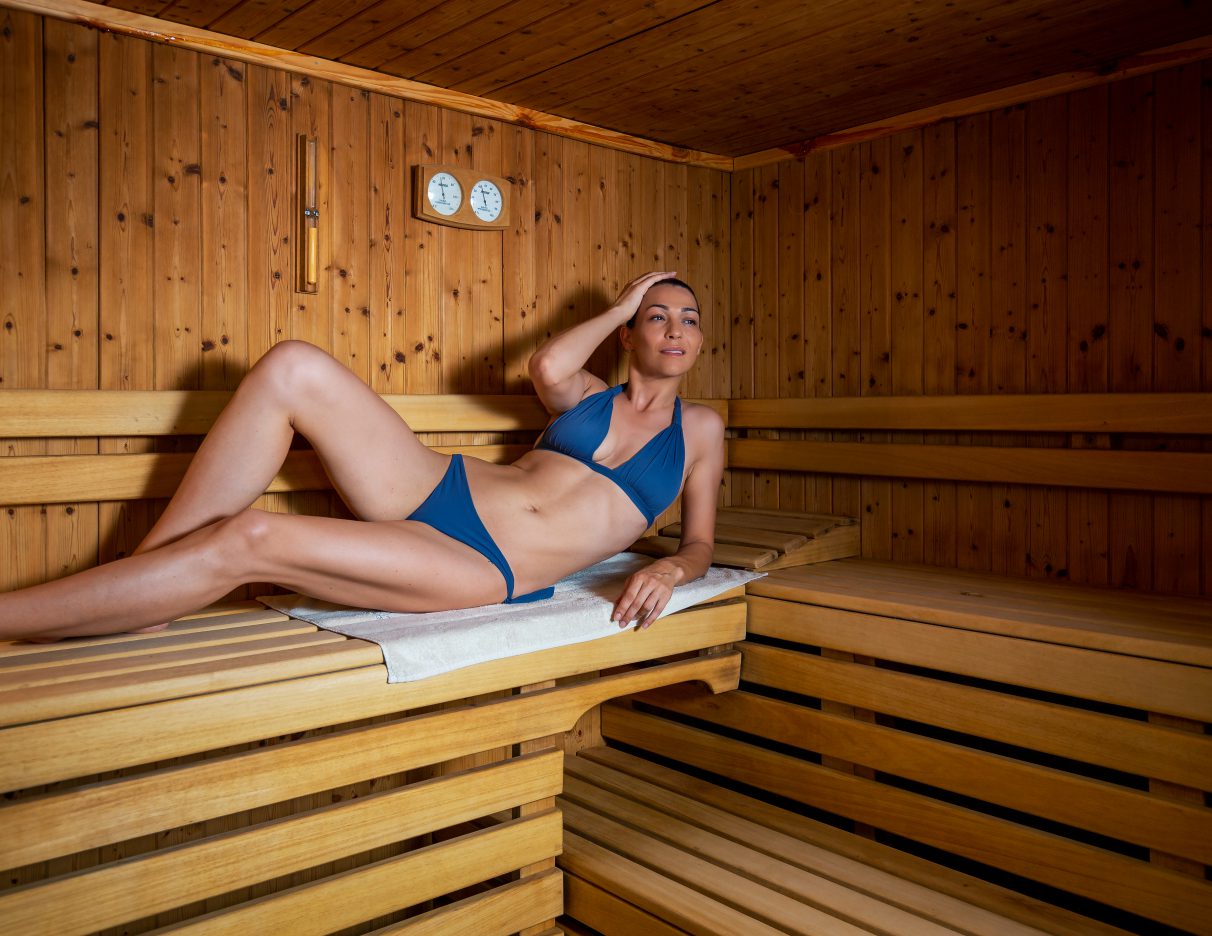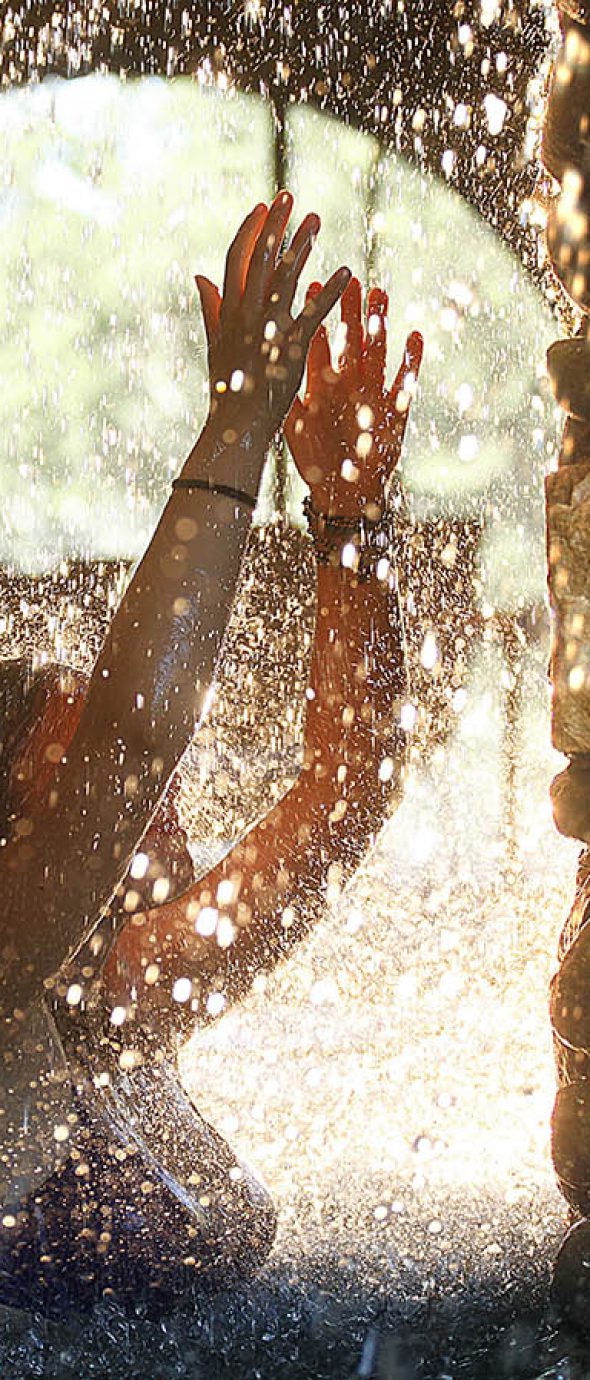 CHARACTERISTICS AND THERAPEUTIC EFFECTS
«Follow me between the river stones and the chestnut wood, through the small waterfalls immersed in the greenery of this valley. Do you feel it, the energy that flows? It is my gift for you ».
The water that feeds our thermal structure naturally flows at a temperature of 51 ° C and is technically defined as "Salt-Sulphate-Calcium-Hyperthermal Water". This means that it has a valuable concentration of sulphates, calcium, minerals and trace elements capable of giving therapeutic effects on the respiratory system, skin and musculoskeletal system to those who dive into it.
In addition, in our pools we have eliminated the use of chlorine by replacing it with an oxygen-based treatment, which does not alter the quality of the thermal water.
To deepen its chemical-physical characteristics:
fixed residue 1582 mg / l
fluorine 1.3 mg / l
chlorides 31 mg / l
total hardness 102 ° F
sulphates 942 mg / l
pH 6.9
free carbon dioxide 31mg / l
bicarbonates 171 mg / l
magnesium 57 mg / l
sodium 26 mg / l
electrical conductivity 1630 µs / cm
calcium 340 mg / l
potassium 6 mg / l
nitrates 1.2 mg / l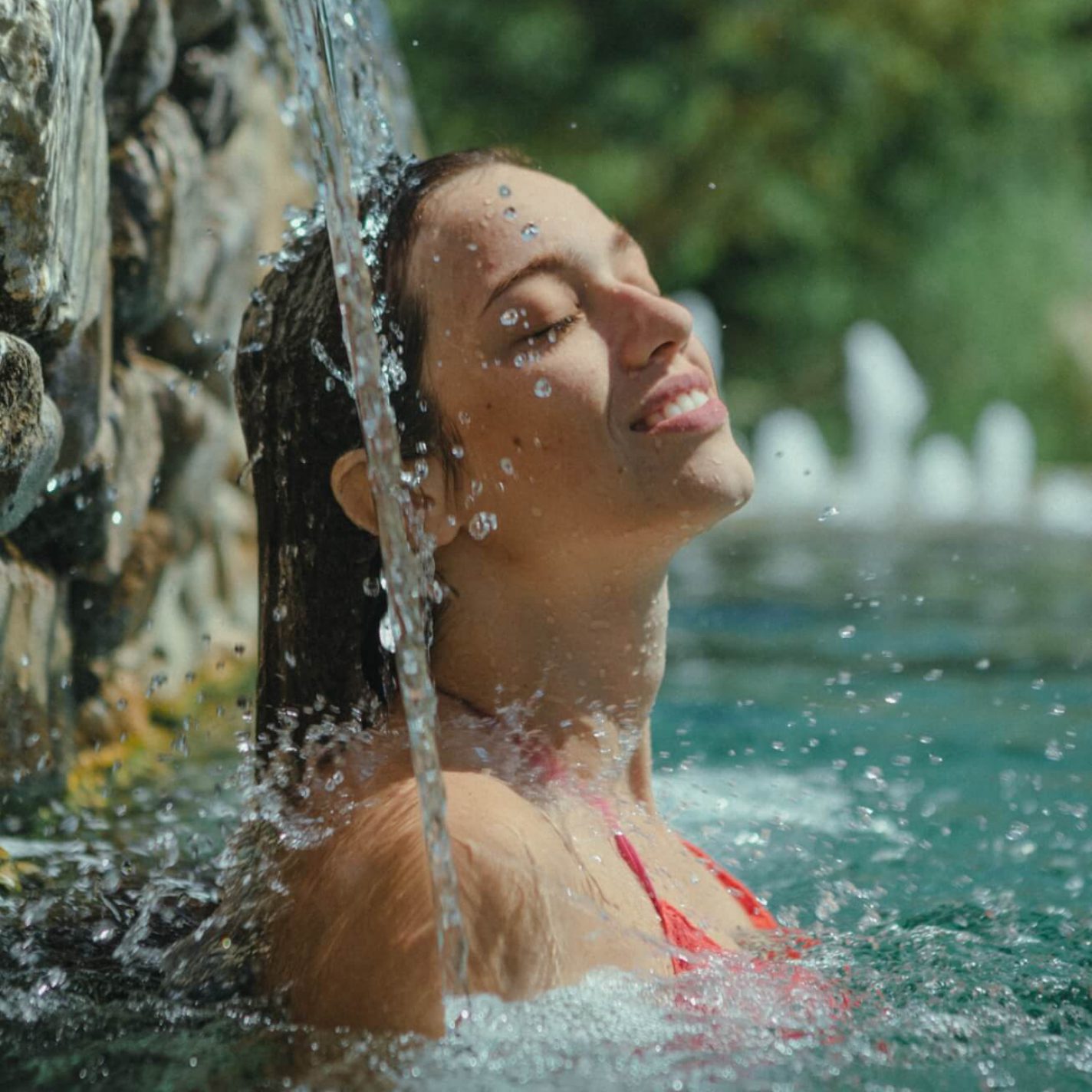 Let yourself be pampered by the warmth of our beneficial water. Pull the plug and let yourself be seduced by the emotional showers and the warmth of our river stone Turkish baths.
Abandon yourself to the pleasures of the aromatherapy sauna and regenerate yourself with our Kneipp path. Reconnect the link with nature, discovering a unique territory, rich in history and genuine products.
Our thermal path is a 360 ° dive into nature to regenerate body, mind and spirit. Among luxuriant chestnut and oak woods, our spas are inspired by the ancient Etruscan and Roman architecture, intimately linked to our territory.
The water flows sinuously from the waterfalls of the central column and from the external walls, from the cervical, back and foot hydro-massages, leading along a suggestive path that winds between indoor and outdoor pools.
Between jets, sketches and streams, you will meet the fascinating cascade gore from the hottest pool to finally reach the last outdoor pool of the structure. Ready to relax?
Il percorso termale comprende:
Indoor balneo-therapy pool (38 ° C) with whirlpools and waterfalls
Outdoor balneo-therapy pool (36 ° C) with whirlpools and waterfalls
Outdoor balneo-therapy pool, (30 ° C – 32 ° C)
River stone sweat room (steam room)
Emotional showers, chromium and aromatherapy
Aromatherapy bio sauna with natural essences
Kneipp path: alternating hot-cold bath
Herbal teas and herbal infusions of our production
A taste of farm products (yogurt, fruit salad, wine …)
Relaxation area, with sunbeds and solarium not bookable but usable according to availability
Scientific Report of the University of Pisa
06.10.2016
"… The thermal waters of Sassetta, sulphate-calcium thermal water, rich in sulphates, calcium, precious minerals and trace elements, naturally comes from the earth at a temperature of 51 ° C and with an average flow of about 200 liters / min feeds the thermal structure.
Composition and temperature make it suitable for the treatment of osteoporosis of the knee, hip and spine, by means of balneo-therapy with a therapeutic effect and with a reduction in the pharmacological load as well as an effect on the pain symptom.
But not only that, the study absolutely shows an increase in energy, stabilization of the emotional reaction, decrease in social isolation, greater physical mobility, improved sleep … This is called scientifically … Improvement in the quality of life !!! … "
University of Pisa U.O. Geriatrics
Prof. Fabio Monzani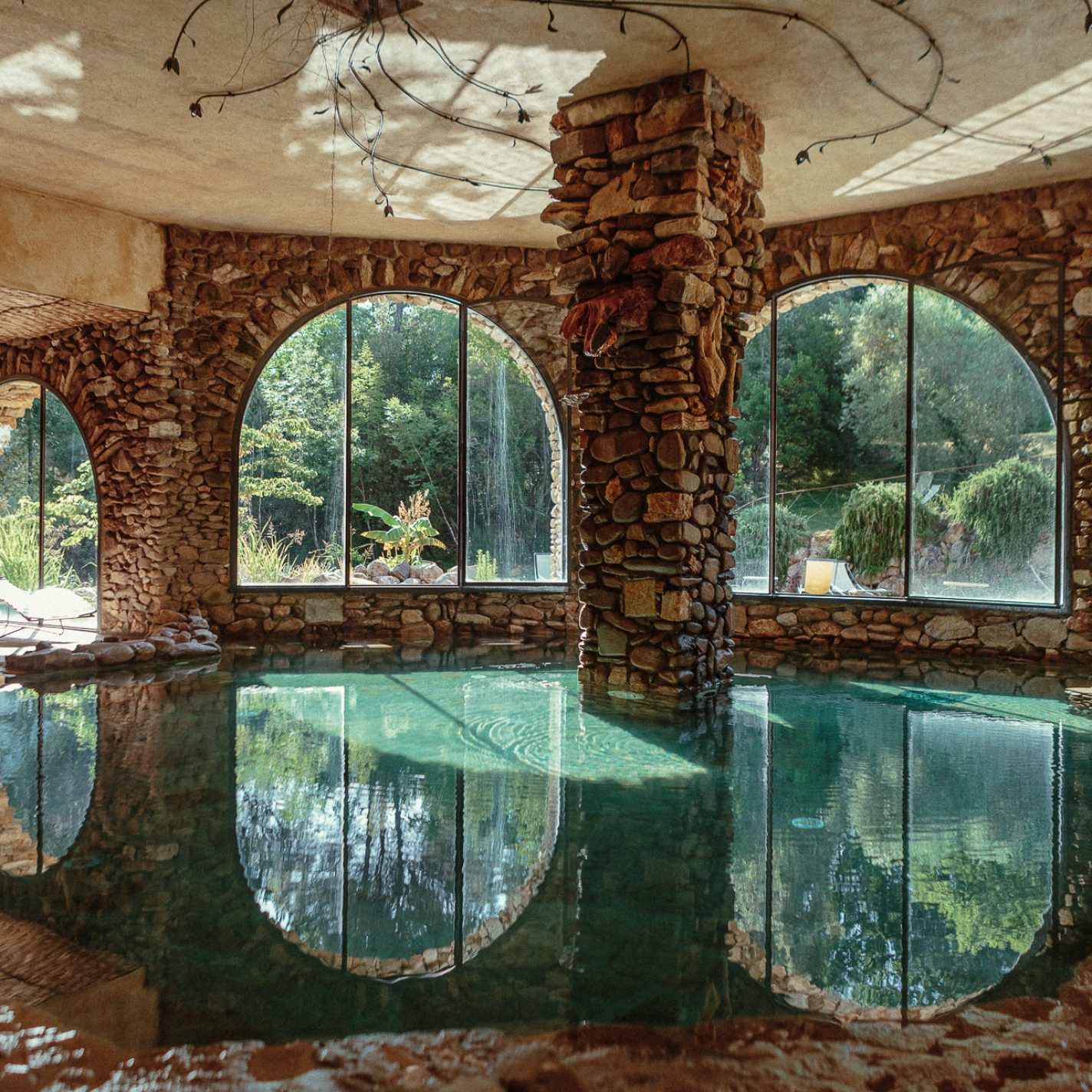 Natural and fresh products, enveloping gestures, relaxing atmospheres… At Cerreta the time has finally come to devote some time to yourself. Relax with our exclusive treatments, designed to regenerate the body and mind through quality raw materials, which we largely self-produce.
We have selected for you a series of services which – combined with the benefits of our thermal water, the expert manual skills of professionals in the sector and scientific research in harmony with our biodynamic approach – are aimed at giving moments of incredible well-being.
In fact, each program is designed to create an integral and holistic approach to the individual's mental and physical health.