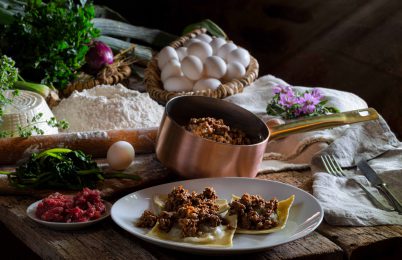 ENTRANCE TO THE SPA WITH ESSENCE MENU FOR 1 PERSON
With this Gift Voucher, valid for 1 person, you buy an access to the Spa combined with lunch or dinner in the restaurant of our farmhouse with "Menu Essenza".
The Terme entrance gives access to the complete spa path "Salus Per Aquam" and includes:
Calidarium – Indoor Balneotherapy Pool (38 ° C)
Tepidarium – Outdoor Balneotherapy Pool (36 ° C) with whirlpools and waterfalls
Frigidarium – Outdoor Balneotherapy Pool (24 ° C)
Laconicum – Sweat room (Turkish bath) in river stone
Bio Sauna Aromatherapy with Essences
Emotional chromotherapy and aromatherapy showers
Kneipp path (alternating Hot-Cold bath)
Natural or fruit organic artisan yogurt
Herbal teas and herbal infusions of our production
Relaxation area with sunbeds and solarium
Reservation is mandatory.
The Essence Menu of La Cerreta is our proposal to capture the essence of the biodynamic cuisine of our restaurant, with the possibility of choosing between vegetarian or meat dishes. The dishes are made with the products of our biodynamic farm.
It consists of:
Appetizer (raw milk cow's milk cheeses, soups or vegetable creams, pies, savory pies …)
First course (homemade pasta with ancient grain flours and meat or vegetable dressing)
Second course (Maremma veal or Cinta Senese with vegetables or vegetarian main courses)
Dessert (homemade cakes or desserts)
A complete Traditional Menu * for 2 people to be consumed in our restaurant for lunch or dinner, preferably after the complete spa treatment!
* The restaurant is open every day of the week for dinner while it is open for lunch on holidays and public holidays (with closing on weekdays). The menu includes bread and cover charge – extra water, wine, coffee and spirits.